Top Greetings What is new? Profile Painting Style 1st:landscapes 2nd:sketches
Profile
Hideo Ishimoto was born in Nagasaki, Japan in 1908. He spent his most life in Saga, and died there in 1986. He was interested in pictures from his childhood, and planned to be an artist when he finished Nagasaki-Mitsubishi technical school. He entered Tokyo Fine Arts School in 1928. After graduation, he joined Ogi Junior High School as art teacher. Then started the social life of Painter Ishimoto.




He had three faces. Each and its representative status is as follows:
Painter: Councilor, Nitten(The Japan Arts Exhibition)
Educator: Professor, Saga University
Leader of art circles: Director of the Association of Toko-kai, and chief director of the Society of Fine Arts Education at Universities



Painter Ishimoto
Ishimoto loved Cezanne so much that he called himself "Cezanneian". He considered the essentials of painting color, shape and space. In addition to them, he took "feeling of quality" as one more essential. He devoted himself to production of paintings through his life that are based on those essentials and ground in his humanity. He published big oil paintings both at Art Exhibition of Toko-kai in spring and at Nitten in autumn. He also had his own exhibitions seven times in Kyushu. Further, he drew light oil paintings, sketches or shikisis now and then. Especially, the sketches during his stay in Europe are exciting. The then curator Sei-ichi Matsumoto, Saga Prefectural Arts Museum reviewed the Ishimoto's works[Matsumoto,87]. Let us cite a part of the description to introduce the characteristics of Ishimoto's works:
His paintings of figures in the early days were oriented to the official exhibitions. The whole picture is colored in vermilion, and its composition is flat and decorative, being affected by Yosato Saito, one of the founders of Toko-kai. -----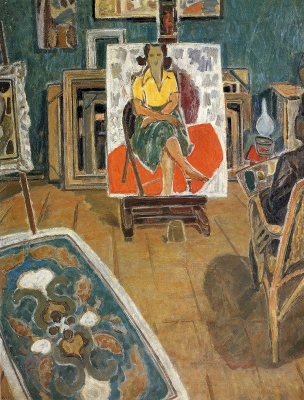 Then, the style of composition changed to have clear contours of objects in the next series of works after "An atlier" [SPMAM]. Not only perception and composition are well-unified in them but also his firm belief to such a style is fully fused into them. ----- One of the results of the series might be "The family of a painter" which is specially selected with the highest honor at Nitten. This painting expresses his strong intention to molding explicitly. ----------

Next, he attacked the problem of molding through figures. ----- However, the pictures were never abstract but concrete, filled with the sense of touch. ----- Another factor was needed for the next jump. ----- It is shown in "Pine trees like a lying dragon". He seemed to be interested in the pictures of paper or folding screens according to his biographical note. ---- "Pine trees like a lying dragon" clearly shows such a decorative style in those screens. He looked to have had something more than the decoration of the screens in his mind which attracted him very much. ----------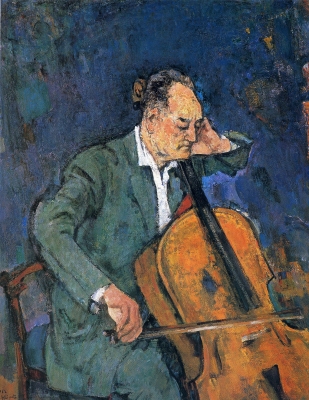 The series of paintings of an elder man playing chero[SPMAM] had much more static and deeper contents although the previous works were excellent in composition. We can see a goal of Ishimoto in this age or the last half of 50s. We can find his expression of humanity based on his whole personality. ----- By "expression of humanity" the author means that the mood of a figure in a picture is drawn to be most likely to the very person. -----


He changed the object of paintings from figures to landscapes. This comes from his stay in Europe during 1964 through 1965(56 through 57 years old). He encountered the Western culture for the first time, and found nice samples of molding here and there, say, even at a corner on the street, which he was seeking for a long time. ----------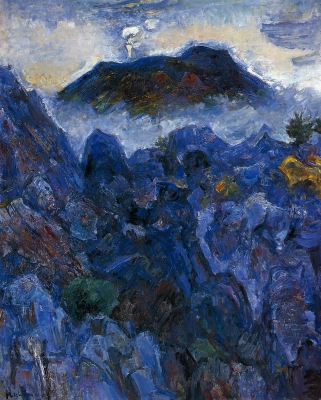 Soon, Sakura-jima Island atracted his orientation to molding: the surging lava belt of Mt. Sakura-jima and the rising mountain with a column of smoke and a cloud of dust. The series of Sakura-jima Island was probably a trial to get back the feeling of quality. He tried to seek the feeling through figures previously, but through the strong vitality of Sakura-jima Island this time.

Suddenly, he drew Ariake Sea. He said, "Many waterways wriggle through the tideland after the tide is gone. It is interesting". That was his last work.
We should note one point for his activity of production: assistance of Taki, his wife. She was a person with natural eyes "seeing" pictures. After marriage with Ishimoto, she had much appreciation, readings, and conversations about paintings, and trained her eyes. She was able to make adequate advices or sharp comments when asked. Discussions were sometimes against each other, but converged in the end.

As mentioned above, "The family of a painter" won the highest honor and the Asakura Prize at the seventh (old)Nitten. Further, "Dialog" won the Chrysanthemum Prize at the third Nitten, and "The blossom lava belt" won the Member Prize at the tenth Nitten.

Art educatior Ishimoto
The base of his teaching activity was Saga University. He had to prepare something important before teaching: arrangements of the environment for art education. There was an atomosphere to build a department of fine art at Saga University. However, it needed much energy. First of all, a clear idea of art education should be established. Then, its curriculum must be shown. Next, professors to teach students along the curriculum must be selected. Next, negotiations on budgets and personal affairs within Saga University are waiting. Finally, hard negotiations with the Ministry of Education come. One should overcome such documentation, meetings and negotiations one by one. Ishimoto took a lead of those hard jobs, and succeeded in establishing a special department of fine art at Saga University eventually. He was in charge of professor of Western style painting, and invited excellent artists as professors: Katsuaki Toyoda for metal craft, Kazuo Taki for ceramic art, Takaji Fujita for Japanese style painting and so on.
Students who wished fine arts and were waiting eagerly for its opening gathered soon. They were excited with theories in classes and skill training in practices. Ishimoto had broad channels to art circles, inviting important persons in the central art circles, e.g. Sculptor Tadao Koga or Western style painter Kinosuke Ebihara, as part-time lecturers. The students were very much pleased with advices by words and examples by hands of those lecturers. Ishimoto described such situations as follows, focusing his attention to Lecturer Ebihara[Ishimoto,71]:

Ebihara said, "I see. You've already learned the elements, and so I'll do what Ishi didn't." He drew a line with a primary color on the canvas of a student with a jerk, said, "Do it yourself!" after he cut a part of paints with a knife, or covered the background with paints at which he tapped with a side of a knife saying, "Look!, A knife can be used like this." when he found a smart student in practices.

Art students were not satified omly with classes or practices at university. They often carried their canvases on half a way with them to Ishimoto's house and asked his comments. Further, they sometimes had hot discussions on art with alcohol at Ishimoto's house, enjoying their youthful days. On the other hand, young students at senior high-schools who wish to be an artist in future were encouraged with the opening of a "base" where they can learn high-level art in Kyushu which is able to compete with the central art in Japan. Some graduates joined as art teachers elementary schools, junior high schools, or senior high schools in Kyushu, and some got jobs of, say, commercial designers. Many graduates are active as important persons in education or industry circles now.

So far was described the higher education by Ishimoto. He attacked also elementary and middle education of molding. He served concurrently as schoolmaster of the attached elementary school. He had lectures on art at many meetings which were held by graduates, or art teachers of elementary or middle schools. He had a belief on art education for children[Ishimoto,85]:

As for children's drawing, they shouldn't be forced to do it. You don't say, "Well, draw like this", but let them expose their physical conditions or lives as they were. It is something in advance to representation.
Let them play with color and shape, or play freely. Then they feel drawing interesting. Don't scold whatever they may draw, but praise them if they draw something different from others. It is important to guide children to self-creation and development with paints. That's art education for children.

The above-mentioned art education together with the activity of production led him to be awarded with the Third Order of Merit with the Second Order of the Rising Sun.
Art leader Ishimoto
Saga art circles around 1950 was so poor in its activity that even the members of the circles called Saga "sterile land of culture" in a self-mocking manner. Young artists, or Susumu Nodomi, Hajime Ezaki, Kunio Hisadomi, Harumi Tateishi, Shigeo Tsutsui, and Hideo Ishimoto, roused themselves up against this trend, organizing the Art Exhibition of Seiko-kai. It invited public contribution, and examined in a public way. As a basis of this exhibition they proposed to the local government holding an official exhibition. The first Saga Prfectural Art Exhibition was held in 1951 at last. This was an epoch-making event in culture in Kyushu and Yamaguchi. The exhibition invited important artists Koga, Ebihara, and Toyoda mentioned above, and Plastic artist Wasaburo Nagamachi as judges, examining applied works strictly. Seiko-kai broke up naturally, and the prefectural exhibition has been successively held every year.
Ishimoto accepted lightheartedly a judge of picture contests held, say, by news paper companies. He processed many works promptly, selecting excellent ones carefully. He was in charge of the first Chair of the Saga Meeting of Molding Study.

It was Rokko-kai, Saga branch of Toko-kai that he concentrated his leadership on the activity of art circles. Rokko-kai started with Chair Ishimoto and approximately twenty members in 1958. He led the members especially both to Art Exhibition of Toko-kai in spring and to Nitten in autumn every year. He gave comments to the member's works brought to the cite of meeting, showed examples to improve them, and sometimes encouraged them if they are into a slump. It is not possible for all the members to go to Tokyo for the exhibitions, and so he carried with him several rolling canvases by the members who can not go to Tokyo. As soon as the judgments finished, he informed them of the results by phone. He took care of Rokko-kai so kindly that the combination among the members was strong. He was also in charge of the Chair of the Board of Directors of the Saga Art Association, and the first Chair of the Saga Cultural Convention, and so on.

His status at Nitten got important gradually with his prize-winning and leadership of production activities: commission in 1953, judge in 1962, member in 1963, judge again in 1978, trustee in 1978, and councilor in 1984. He was also in charge of the Chair of the Board of Directors of the University Association of Fine Arts, Japan.
Eventually, he was awarded not only with the Prize of Cultural Merit at the Centenary of Saga Prefectural Goverment but also with the Prize of Cultural Merit at the Tenth Aniversary of the Foundation of the Agency for Cutural Affairs.


Acknowledgements
The owner of the images of square brackets is as follows. The author would like to thanks to the agreement to the appearance of those images:

[SPMAM] Saga Prefectural Museum & Art Museum

References
[Ishimoto, 71] Hideo Ishimoto: Great Painter Ebihara and Saga, Pictures, No.89, July 1971.
[Ishimoto, 85] Hideo Isimoto, Special speech, Saga Shinbun, June 1985.
[Matsumoto, 87] Sei-ichi Matsumoto: An approach to suika---On Hideo Ishimoto, Painting Collection of Hideo Ishimoto, Oct. 1987.


* Your impressions or opinions about this page are welcome. Please email them to the following address:
Email ishi@hagakure.drawing.jp



Top Greetings What is new? Profile Painting Style 1st:landscapes 2nd:sketches
Copyright (c) 2007 Naoyuki Okada. All rights reserved. Any reproduction of images and descriptions without permission is not allowed.